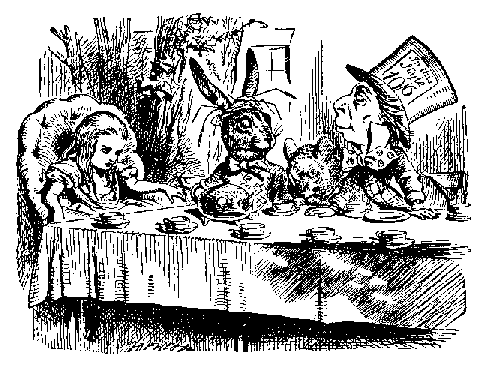 Eli, the evil bunny has been busy sowing derision on some denialist sites, in a most polite way of course. Among other revelations is that the white queen had nothing on your average denialist

Alice laughed. `There's no use trying,' she said `one ca'n't believe impossible things.'
`I daresay you haven't had much practice,' said the Queen. `When I was your age, I always did it for half-an-hour a day. Why, sometimes I've believed as many as six impossible things before breakfast.
Denialism is reduced to throwing spaghetti against the wall and hoping that something sticks which leads to claiming that every one of a set of mutually contradictory papers are just wonderful. This came out again recently (at least when the Rabett was in attendance) in comments
Open Mind
. Down towards the bottom of the thread Ray Ladbury started it with
Dave A., Don't be daft. Of course I form my own opinion of research in my field. I read the paper. I do the math. I look for consistency and how it fits into the context of previous research.
Eli agreed
Now the hooty thing about denialists is that they believe three impossible and mutually contradictory things before breakfast. Look at the nonsense that they simultaneously accept. They don't care as long as it casts doubt on our understanding of climate.
and Gavin's Pussycat added
Many non-scientists have no clear idea of how highly rated redundancy is in science. You don't really believe anything seriously before it has come from several independent sources. And those sources themselves are often internally redundant, like surface temperatures, monthly averaged, correlate over long distances.
Same with replication: I can replicate with the best of them someone else's coding errors by running their code. Independent replication, by different people, using their own code and methods, on different data (if you can get it) proves something.
and Barton gave an example from virtual life
I can testify from personal experience that that's true. I'm in a long running dialogue over on landshape.org where people are defending Miskolczi's crackpot paper. One of them insists that the surface temperature of the Earth being higher than the radiative equilibrium temperature is caused by "stored energy," not by the greenhouse effect. I pointed out that this would mean he's disagreeing with Miskolczi, who at least believes there's a greenhouse effect. Nothing doing. He says he didn't see any conflict, and neither Miskolczi, who is also present on the thread, nor any of his supporters, was willing to correct this guy. "No enemies on the left."
Eli has been pointing this out for a while now, and the reaction has been, welll......amusing
Eli you ought to hang your head in shame and embarrassment as a result of quoting the deplorable Krugman on economic matters.
And by the way the nonsense you spouted about the superiority of mitigation was a crock of shit proving that if you know so little about economics you shouldn't be talking about AGW as your judgment on any matter should not be trusted.
The sheer nonsense was deplorable. here:
http://alsblog.wordpress.com/2008/09/03/rabbets-and-carrots-without-the-stick/
As usual you peddle off at 50 MHP and won't answer to all that stupidity you wrote.
We need an apology for your stupidity, Eli. Nothing less will do.
Of course we made sure that Krugman would win the Eco Nobel before replying, but what do you expect, the sucker can't spell Rabett either. The source of this exchange was cohenite playing Dave Letterman on
Jen's rent a blog
The point here is not to show that cohenite's heart throbs are trash, you can read that elsewhere, but to point out that they contradict each other. You might believe one or two, but all ten at once is very red queen territory. The envelope please:
1. Steve McIntyre's Ohio State University Address; How do we "know" that 1998 was the warmest year of the millennium? (May 16, 2008). http://www.climateaudit.org/pdf/ohio.pdf. This is a seminal paper which synthesizes all the errors and obfuscations to do with the Hockey Stick. It also demonstrates McIntyre's methodical, scientific and unadorned approach to the issue.

2. Craig Loehle's paper; A 2000-year global temperature reconstruction based on non-tree ring proxies, Energy & Environment 18(7-8): 1049-1058. 2007 http://www.ncasi.org/publications/Detail.aspx?id=3025 This paper was important because it was a counterpoise to Mann's tree-ring data and provided good support for the Medieval Warming Period, a major obstacle to AGW.

3. Douglass, Christy et al; this is the first of the GCM critiques; A comparison of tropical temperature trends with model predictions. International Journal of Climatology, 2007 http://www.climateaudit.org/?p=3058
http://www.scribd.com/doc/904914/A-comparison-of-tropical-temperature-trends-with-model-predictions?page=6 .


This paper really touched a nerve and the level of hostility leveled at it was astounding; it mostly boiled down to nit-picking about Raobcore data and whether a falsification was distinct from a bias. The second link is to an addendum to the paper; comments 69-74 are entertaining.



4.Koutsoyiannis et al; http://www.itia.ntua.gr/en/docinfo/850 Assessment of the reliability of climate predictions based on comparisons with historical time series. Geophysical Research Abstracts, 2008. This link is to the first presentation. This was a crucial paper; it covered the 18 year predictive history of the GCM's on a regional basis; regionalism is the Achilles Heel of AGW.

5.Stockwell; http://landshape.org/stats/wp-content/uploads/2008/08/article.pdf Tests of Regional Climate Model Validity in the Drought Exceptional Circumstances Report. 2008 This paper did the job on CSIRO and demonstrated the political imput into the AGW science.

6. Misckolczi; Greenhouse effect in semi-transparent planetary Atmospheres. Quarterly Journal of the Hungarian Meteorological Service, Vol. 111, No. 1, January–March 2007, pp. 1–40.http://met.hu/doc/idojaras/vol111001_01.pdf This is my favourite. It has everything; the dead hand of AGW censorship, and the demolition of the AGW's semi-infinite opaque layered atmosphere. People have quibbled about the Kirchhoff equations but Miskolczian –ve feedbacks have been established.

7. Essex, McKitrick, Andresen; Does a Global Temperature Exist? Journal of Non-EquilibriumThermodynamics, 32 (1) 1-27.http://www.reference-global.com/doi/abs/10.1515/JNETDY.2007.001?cookieSet=1 The fallacy of a global average temperature was taken to task in this paper, and, again, the reaction was hostile. This paper wittily compared averaging temperature to averaging the phone book; an important addition to the regionalism lexicon.

8. Spencer and Braswell; Potential Biases in Feedback Diagnosis from Observational Data: A simple Model Demonstration, Journal of Climate. http://ams.allenpress.com/perlserv/?request=get-abstract&doi=10.1175%2F2008JCLI2253.1 No list would be complete without Mr Cloud and –ve feedback. As well, Spencer has been a bastion of reliable temperature data. This was still a close call. Minschwaner and Dessler's paper on RH decline as a response to increasing CO2 is a crucial paper, conforming to Miskolczi's feedbacks.

9. Chilingar; Cooling of Atmosphere Due to CO2 Emission, Energy Sources, Part A: Recovery, Utilization, and Environmental Effects. Volume 30, Issue 1, January 2008 , pages 1 - 9 http://dx.doi.org/10.1080/15567030701568727 An important paper about convective heat transfer which relegates CO2 radiative heating to its proper subordinate position; and incorporates atmospheric pressure as a heating factor. Thanks to Louis for alerting me to the paper. An honourable mention to the Gerlich and Tscheuschner paper on the fallacy of the greenhouse concept and a host of other errors AGW science makes.

10. Pielke Sr et al; Unresolved issues with the assessment of multidecadal global land surface temperature trends. Journal of Geophysical Research, Vol 112. 2007. http://climatesci.colorado.edu/publications/pdf/R-321.pdf


An elegant paper which uses Stefan-Boltzman to support regionalism and show that the notion of a radiative imbalance is defeated by regional temperature based energy differentials. Somewhat superfluous since AR4, FIG 1 shows no global radiative imbalance.
Eli torched this off by pointing out that Miskolczi and Chillingar are not even on the same planet. The former does some theoretical hocus pocus on radiative equilibrium in the atmosphere, the later claims that radiation plays only a small role and that almost all heat transport in the atmosphere takes place by convection.

Essex et al. claim that there is no meaningful global (or by the same arguments regional) temperature while almost all of the others calculate such metrics. Some of the papers claim there is no greenhouse effect, others claim there is a little bit, still others claim there is a greenhouse effect but it cannot increase (Miskolczi), and so on.

NT summed it up

You have missed the point. On this post(by Cohenite) he has used contradictory science to demonstrate that AGW is not real. You cannot use one paper to falsify one aspect, and then another paper to falsify another, when the two papers are mutually exclusive.

He attempted to show that the Greenhouse effect is negligable. He posted a paper he said showed why (Minschwaner), it contradicts earlier an earlier paper he posted (Miskolczi). one claims there is a greenhouse effect due to greenhouse gases, tthe other claims it is due to optical depth. You can't have it both ways.

Skeptics use a scatter shot approach, using one kind of physics to 'disprove' one aspect and an opposing kind of physics to 'disprove' another. You need to have an internally consistent argument.
and SJT disagreed

"Skeptics use a scatter shot approach, using one kind of physics to 'disprove' one aspect and an opposing kind of physics to 'disprove' another. You need to have an internally consistent argument."
As Jen's site demonstrates so well, you don't need anything of the sort.
UPDATE: Michael Tobis has found the right words, the incoherence of denialism